Jimbo brought home two trophies from Clownfest 2014, 1st Place for his single balloon "Horse" and 2nd Place for the multiple balloon figure of the "Mallard"
Some past Jimbo History…
Harrisburg Magazine has recognized Jimbo the Clown as the 2010 Readers' Choice Children Entertainer. That's FOUR years running, 2007-2010! As always it's a great honor for me to be recognized and to be listed with other great Harrisburg companies.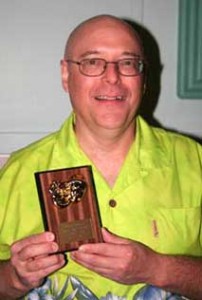 Jimbo the Clown is also the 2006 Dinkus Award which was presented at Clownfest by the National Clown Arts Project, Inc.
Daniel "Dinkus" Hamilton was truly a clown for all seasons. His warm and cheerful character was a delight to many a hospital bedside, birthday party, parade and many other special events. One of Dan's favorite events was the "Asbury Park Festival of Clowns" where he could be seen riding his fun clown tricycle in the parade. That event later became "Clownfest".
Dan Passed away in 1986 on Thanksgiving Day. A clown award, "The Dinkus Award", has been established in his honor to carry on the art of clowning. This award is presented to an up and coming clown each year.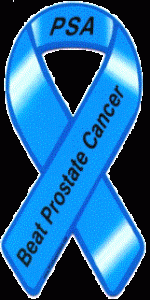 In October of 07, Jimbo was diagnosed with prostate cancer, the good news is that is was caught early and the prognosis is good. Jimbo finished his Radiation therapy in early Feb. 08. Now nearly 3 1/2 year laters, all test are negative. Although not considered cancer free yet, things are looking good.
UPDATE: in May 2015 Jimbo's most recent PSA came back low, so, Jimbo is now considered in REMISSION!!
The main reason that my cancer was found so early is that Jimbo had been getting a annual PSA – the blood test that gives warning that cancer may be present. Because of family history, He has been getting tested since he turned 40. Normally it is suggested that men get an annual PSA once they reach the age of 50. I implore all men to have this test done regularly. Caught early enough, Prostate Cancer is very treatable and even curable. There are many options for treatment. Left unchecked, the cancer can spread making a cure much harder. Men, the test is rather painless, please do it regularly!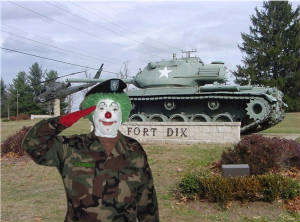 After completing 24 1/2 years of service"Jimbo" has retired from United States Army Reserves. As "SFC Fearn" he was formally assigned to the 2nd Brigade, 90th Division in Harrisburg. His enlistment took him to many locations in the US to include Fort Knox, Fort Bragg, Fort Benjamin Harrison, Fort Indiantown Gap, Fort Dix, Fort Leonard Wood. He was mobilized in Oct of 2001 and served 30 months at the Soldier Readiness Processing Center at Fort Dix, N.J.