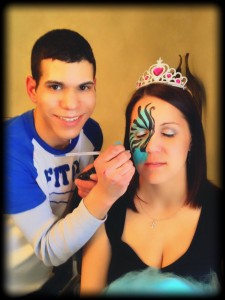 Jimbo the Clown was proud to be able to offer Zee the Face Painter with his parties for almost two years. He was an extremely talented and his face painting added so much to Jimbo's Birthday Parties and Public Events. It was great to see him grow in talent and confidence, Zee even took 3rd place at the World Clown Association Convention held in Orlando Florida. There Zee competed with talented face painters from around the globe, Taiwan, England, Puerto Rico. Not only was he talented but he worked very well with children of all ages, toddler to Grandparent!
Sadly, on May 1st, 2016 – Zee had an accident and passed away from his injuries on May 4th.
Jimbo will miss his boyish outlook on life, his smile and his company, It will be impossible to find someone like him. In the time that he was with Jimbo, Zee gathered a good number of friends in the entertainment field, and with his kids he painted. He will be greatly missed by all!
In memory of Zee, Jimbo will now wear Blue hearts under his eyes instead of the red hearts he has worn for many years. Blue was Zee's favorite. He may be gone but Jimbo will never forget his pal, Zee, RIP <3